Robert-Georg Freiherr von Malapert-Neufville was born on 7 August 1912 in Darmstadt (Assia), the second of six siblings. The young aristocratic German gained his Abitur (Diploma), and later studied mechanical engineering at the Damrstadt University from 1932 to 1934. He then joined the military serving as infantryman in Augsburg.
During his career in the infantry, von Malapert-Neufville attended the Kriegschule (War School) in Potsdam being taught by a young Erwin Rommel. In 1936, he transferred to the Luftwaffe, graduating as a pilot and being posted to I./165 in Schweinfut, flying Henschel Hs-123s and Ju-87s.
Following the prewar reorganisation of Luftwaffe combat wings, Freiherr von Malapert was posted to II./StG 1, and promoted to Staffelkapitan shortly afterwards. The outbreak of war saw the aristocratic Assian in action during the invasion of Poland and the Battle of France, claiming 20,000 GRT of enemy shipping and being awarded the Iron Cross 2nd and 1st Class.
During the Battle of Britain, Malapert's unit suffered apalling losses, and together with all the other Stuka Gruppen was withdrawn from the battlefront. After a period of ret and refit, StG 1 was sent to the Mediterranen, where the pilot, now an Oberleutnant, took part in attacks against Malta and,
The Geschwader was then transferred to the east for Operation Barbarossa, in June 1941. Stuka pilots were in action every day against the fierce Soviet resistance, flying often three or four mission per day. Claims were huge, but at the same time losses started to rise both to enemy's fighters or the omni-present AA fire.
On 15 October, Malapert-Neufville received the newly-created German Cross in Gold and on 6 January 1942,
when offensive operations were then stopped due to the winter, he received the Ritterkreutz, after 315 combat missions. The following March saw his promotion to Hauptmann and to Gruppenkommandeur of II./St.G. 1.
On 21 May 1942, Malapert led his unit to attack an important bridge used by the Soviet Army as a supply route west of Moscow. The Kommandeur destroyed the bridge scoring a direct hit in a low-level attack. His Stuka was, however, hit by anti-aircraft fire: with his radiator holed and oil temperature alarmingly high, Malapert had to make an emergency landing in no man's land. Both he and his gunner, Oberfeldwebel Otto Mees, survived the landing and tried to reach German lines. They crawled towards German position, but when Malapert raised himsfels from the ground to reach friendly positions, he was shot dead by a Soviet sniper.
Oberfeldwebel Otto Mees managed to reach salvation, and an infantry squad later recovered the pilot's body, and laid him in Sezhinskaya.
Robert-Georg von Malapert Neufville was posthumously awarded the Oak Leaves on 8 June 1942.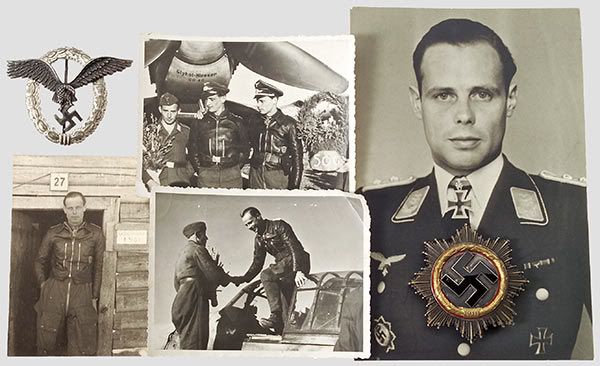 Image taken from: www.wermacht-awards.com
Weal, John (2008).
Ju 87 Stukageschwader of the Russian Front
.