CLICK HERE AND SUBSCRIBE TO OUR RSSfeeds:
http://feeds.feedburner.com/WorldWar2Eagles
On 4 August 1940, No 80 Sqn "B" flight took off to escort a Lysander on a reconnaissance sortie over Italian positions in the Bir Taieb el Esem area, 30 miles inside the Lybian border. Sqn Ldr "Pat" Pattle was leading the flight, the other pilots being Flg Off Jonny Lancaster, Flg Off Peter Wykeham-Barnes and Sgt Kenneth Rew.
Approaching their target, the Gladiators encountered seven Breda Ba.65 bombers of 159° Squadriglia, led by Capt Antonio dell'Oro. These bombers were escorted by Capt. Duilio Fanali's CR.32 of 160° Squadriglia.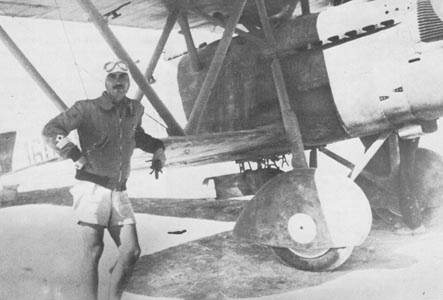 Capt. Fanali posing next a CR.32 of 160° Squadriglia. [Source: Hakans webpage]
Wikeham-Barnes quickly attacked one of the left-hand flying bombers and shot it down, while his wingman Sgt Rew went for the the opposite side. He was, however, himself attacked and shot down by Capt. Fanali.
The CR.32s soon attacked Wikeham-Barnes as well: he managed to down a second Fiat, but was then severly hit by Maresciallo Romolo Cantelli and forced to bail out.
Gloster Gladiator L8009/YK-I, flown by Peter Wykeham-Barnes to score his two kills on 4 August
Pattle, who was leading the top flight, dived into the combat and attacked the second section of three Breda Ba.65. The Italian bombers dropped their bombs and nosed down increasing their speed to escape. Pattle was about to break away when the Bredas turned north, thus enabling him to turn inside them and close to 150 yards on the nearest enemy. The Southafrican fired a few bursts, and the bomber started pouring smoking from its engine, subsequently force-landing in the desert.
Pattle broke away trying to clear is port fuselage gun, which had ceased to fire during the first attack. He was then attacked by five CR.42s from above. The fighters repeatedly dived and attacked the RAF pilot, whose only tactic was to turn away from each attack and deliver a short burst as the enemy dived past him. After a considerable amount of attacks, one of the Italian pilots made a mistake and turned in front of him after the dive, presenting an excellent deflection shot at short range. Pattle seized his opportunity and shot down the Fiat. After seeing their squadron mate spiralling down to the ground, the other CR.42s broke away and left the scene.
Pattle headed back towards Egypt, but encountered the remaining Bredas and Fiats. The bombers broke away, but the fighters carried out exactly the same tactic of the earlier dogfight. After evading the Italians' attacks for almost 15 minutes, Pattle's rudder was shot away, and the aircraft became impossible to control. Pattle then bailed out, landing four miles inside the Egyptian border at around 1900 hrs.
These two kills were the firsts for Marmaduke Pattle, who eventually went on with its career becoming the RAF and Commonwealth top scoring pilots, with50 kills, before being killed in action on 20 April 1941 over Piraeus, Greece.
Peter Wykeham-Barnes also became an ace, scoring 14 kills with Gladiators, Hurricanes and Mosquitos.
Duilio Fanali's kills have never been verified, some sources crediting him with 15 kills. He remained in the Italian Air Force after the war, becoming vice commander of NATO Air Force South Europe in the 60s, and then commander of NATO Defense College. Finally, he served as Chief of General Staff of the Italian Air Force in the early 70s.