CLICK HERE FOR PART 1
Commander Schultze sailed with U-48 from Kiel on 20 November 1939. The vessel crossed the North Sea and approached the coast off Shetland: here Schultze intercepted the 6,336-ton Swedish motor tanker Gustaf Reuter. The merchant was hit by a single torpedo at 00:30 on 27 November, 14 miles west-northwest of Fair Isle. Schultze then left the area, and spent the following week travelling towards the Western Approaches. Convoy OB48 was transiting the area in early December: U-48 first attacked the 6,668-ton steam merchant Brandon, which was sunk at 11:55 on 8 December 80 miles southwest of Fastnet. The following day, the U-boat attacked 7,397-ton motor tanker San Alberto and sank it with a single torpedo amidships at 7:10, 120 miles south of Cape Clear. The last victim of U-48's third war patrol was the Greek Germaine, a 5,127-ton merchantman travelling from New York to Cork, stopped and sunk on 15 December. Schultz finally returned to Kiel on 20 December, after sinking 25,618 tons of enemy shipping in 31 days at sea.
U-48 in port
Schultze's fourth patrol was even more successful: he departed Kiel on 24 January, heading once again towards the Western Approaches, where he sank four ships in less than a week. The first to fall was the Dutch Burgerdjik, a 6,853-ton vessel carrying maize, stopped and sunk on 10 February. The following sinking was a big prize: the 12,306-ton Sultan Star, a Blue Star Liner packed with more than 8,000 tons of food. She was torpedoed and sunk on 14 February, at 16:55.
Schultze carried on its successful patrol and sank the 8,971-ton Dutch motor tanker Den Haag, followed by the Finnish Wilja on 17 February. All these victories were claimed southwest of the Scilly Isles.
Schultze's fifth patrol lasted from 3 to 20 April 1940, and was uneventful. When he returned port with his crew, he was forced to temporarily step back from active duty, due to a kidney disorder for which he was hospitalised five months. Schultze was replaced by KrvKpt. Hans Rudolf Rosing, who departed Kiel on 26 May 1940. They followed the same route of previous patrols, crossing the North Sea, sailing in Britain's northern waters and reaching combat station off the Western Approaches.
The first vessel sunk was the Stancor, a small 798-ton steam merchant with a fish cargo, shelled at 23:15 on 5 June 1940, 80 miles northwest of Butt of Lewis. Sailing further south, Rosing encoutered the 5,888-ton Eros, and shelled it during the night of 7 June. The vessel went on fire and was abandoned by its crew. However, three Royal Navy destroyers reached the Eros and towed her to Tory Island, where they successfully beached the merchantman.
Hans Rudolf Rosing
U-48 continued its mission towards its assigned station, reching the Western Approaches a few days later. There the crew experienced a 10-day happy time, sinking five more ships.
The first was the Greek Violando N. Goulandris, a 3,598-ton sunk west-northwest of Cape Finisterre on 11 June with its cargo of wheat. Then Rosing intercepted convoy HG-34F, sailing from Liverpool to Gibraltar, in the Bay of Biscay. The Germans attacked during the night of 19 June, sinking three ships: 6,607-ton Tudor at 01:25., 3,164-ton Baroun London at 02:56 and 5,661-ton Baron Monarch at 03:25.
Finally, U-48 scored its last success on the following day, torpedoing the 7,493-ton Moordrecht, a Dutch motor tanker carrying 10,200 tons of oil.
In 35 days, U-48 had sunk 37.421 tons of shipping, therefore Rosing headed back for home, reaching Kiel on 29 June.
In the early years of war, the standard Kriegsmarine torpedo was the G7a
U-48's next combat patrol, its seventh, started on 7 August 1940, when Rosing departed Kiel and crossed once again the North Sea. This time, however, the submarine's assigned combat station was not off Cornwall, but in the northern area of the Western Approaches instead, off Ireland. There Rosing began to score victories with the usual impressive pace, sinking the Swedish Hedrun (2,325 tons) and the Belgian Ville de Gand (7,590 tons) on 16 and 19 August respectively.
In the following days, the U-boat moved further north, tracking and shadowing convoy HX-65. Rosing attacked the 6,665-ton La Brea, a straggler from the convoy due to fuel problems, on 24 August and sank it with a single G7a torpedo. The following day the convoy split up in two, the 20 ships of HX-65A heading to Methill and the remaining 25 proceeding to Liverpool in HX-65B.
U-48 located HX-65A on the early hours of 25 August: first to be attacked was the 6,825-ton Athelcrest, firing one torpedo which struck between bunker and boiler room, sinking the ship at 02:45. Then Rosing fired a further torpedo at the Empire Merlin (5,763 tons), which broke in two after the sulphur cargo caught fire.
U-48 was then attacked by the escorting corvette HMS Godethia and depth charged, but escaped without damage. The Godethia also picked up the sole Empire Merlin's survivor, ordinary seamen John Lee. [Source: uboat.net]
U-boat pens under construction in St. Nazaire
After this lucky escape, Rosing headed for home. This time, the Germans reached Lorient instead of Kiel. The successful invasion of France had, in fact, meant that the Uboatwaffe could now use bases and ports on the French Atlantic coast, gaining a direct access to the North Atlantic. The U-boats no longer had to make lenghty journeys across the North Sea and the British Isles, and this shorter voyages to reach combat stations in the Western Approaches also meant more days spent on patrol, and more chances of reaching friendly waters when the submarines were damaged. The British would have paid a heavy price or the loss of France, as the new bases gave the U-boats their first Happy Time of the war. CLICK HERE FOR PART 3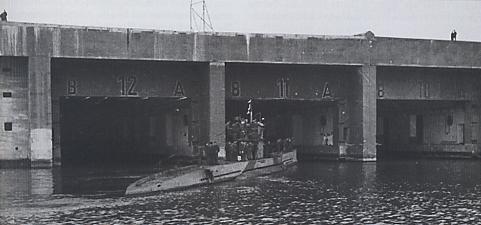 U-136 entering its pen in Lorient. Once inside this massive bunkers, it was almost impossible to attack the submarines from the air